---

TEF20SHIP Analyzer
After a long and successful run, we reluctantly bring production of the TEF20 analyzer to a close. The new TEF25 provides greater range and bandwidth and allows for faster processing through its' computer interface. The TEF25 utilizes state of the art components with the ability to expand and grow to meet the demands of the future. We will continue to support, repair and calibrate existing TEF20 units, but our efforts are now concentrated on the continuing sales and development of the TEF25 and its' associated software.
---
Sound Solutions for acoustical problems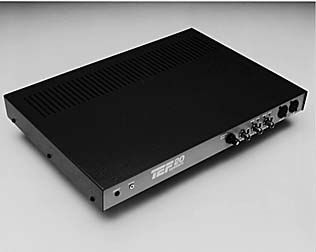 The TEF analyzer and acoustics software make a powerful platform
Processor

Memory RAM 64K x 24 bits

Non-programmable ROM, 32K x 24 bits

Field programmable ROM, 8K x 24 bits

Digital signal processor Motorola DSP56001, running at 27 MHz

Digital-to-analog converter 16 bits, 8 times over-sampled

Analog-to-digital converter 16 bits, 64 times over-sampled (synchronously sampled 2-channel)

Data format IEEE floating point, 24-bit mantissa, 8-bit exponent

Data sample rate 48 kHz, fixed

Dynamic range 96 dB

THD + noise -85 dB at 1 kHz (0.006%)

Communication interface

Serial RS-232 (19.2 and 57.6 kilobaud)

Host (HI) Industry standard architecture, requires an HI-PC card installed in an 8-bit expansion slot

Parallel 8-bit standard or bidirectional parallel port (LPT1 or LPT2)

Trigger connector

Connector type Four-pin DIN, mates with Switchcraft numbers 09BL4M, 09DL4M, 09GM4M, and 09LK4M

Voltage level TTL compatible, 0 and 5 vdc logic

Maximum current Source and sink current no more than 24 mA
Line input

TEF 20 has two line-level inputs on the front panel. Either input can be selected from software.

Coupling Front panel switch for ac or dc coupling

Connector Front panel BNC

Frequency response 10 Hz to 21 kHz, +0.2 dB, dc coupled

Phase response 10 Hz to 21 kHz, +1.0&deg, dc coupled

Input impedance 2 M, dc coupled 1 M, ac coupled

Maximum input voltage 1 volt rms

Test output

Connector BNC

Level, max 1 volt rms, +5 millivolts, adjustable with front panel control

Source impedance Front panel switch sets source impedance to zero or 50 ohms

Microphone input

TEF 20 has two microphone-level inputs on the front panel. Either input can be selected from software.

Coupling ac only

Connector Three-pin XLR, pin 2 "+", pin 3 "-".

Gain 0-60 dB in 4 dB steps, software controlled

Frequency response 10 Hz to 21 kHz, +0.5 dB

Phase response 10 Hz to 21 kHz, +2.0°

Input impedance 6.81 k with phantom power selected 100 k without phantom power

Maximum input voltage 1 volt rms

Polarizing voltage Internal jumper selects 0 or +48 volts

Indicators and lights

Level Green LED, brightness proportional to input level

Overload Red LED, brightness proportional to overload level

Power Red LED

Physical

Weight 10 lbs. 7 oz. (4.73 kg)

Dimensions 17" x 12 3/8" x 1 3/4" (43.2 cm x 31.4 cm x 4.4 cm)

Reset switch Momentary-action, recessed push-button on the front panel

Power switch Rocker switch on the back panel

Operating temperature 32o to 130o F (0o to 55o C)

Cooling Ventilation slots on the top and bottom for convection cooling

AC power 100, 120, 220 or 240 volts rms 48 - 440 Hz, 30 watts

DIP switch Baud rate, monitor mode

Computer requirements

Applications software will run on any MS-DOS-based system, version 5.0 or higher, with VGA graphics. For a system with acceptable performance levels, we make the following suggestions:

Microprocessor 20 MHz 386 with math coprocessor

RAM Eight megabytes recommended, four megabytes minimum

Monitor VGA required, color recommended

Hard disk 80 megabytes recommended, 40 megabytes minimum

Interface, serial One RS-232 serial port, capable of operating at 57.6 kilobaud. Must be assigned as COM1 or COM2.

Interface, host One 8-bit ISA expansion slot for (HI-PC card)

Interface, parallel One bidirectional 8-bit parallel port. Must be assigned as LPT1 or LPT2.

Operating system MS-DOS version 5.0 or newer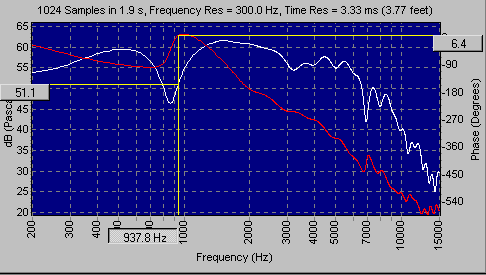 MAGNITUDE AND PHASE DISPLAYS AVAILABLE IN SOUND LAB TDS, MLS OR SLX SOFTWARE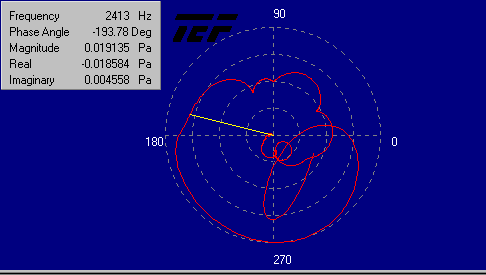 THE NYQUIST IS AN ALTERNATIVE VIEW OF MAGNITUDE AND PHASE, AND IS AVAILABLE IN SOUND LAB TDS, MLS AND POLAR SOFTWARE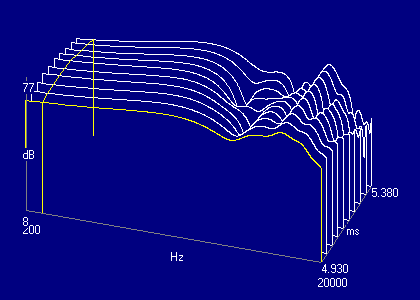 SOUND LAB TDS CAN GENERATE 100 CURVE 3D WATERFALL DISPLAYS
The trademark SOUND LAB is licensed under United States Trademark Registration No. 1,424,678 and 1,732,027.